Following our days in Cappadocia region, it was time to return back to the Mediterranean sun. We were welcomed in Antalya by beautiful scorching sunshine and we were so looking forward to this. After all, this was one of the reasons why we chose this destination. We usually travel to European destinations in Winter, which are always colder than home. This time, since we were travelling with our daughter, we wanted something different. We wanted a place where she could enjoy the outdoors without freezing temperatures and we were glad we chose the Turkish Riviera.
Choosing where to spend your time along the Turkish riviera is not the easiest of tasks as there are way too much interesting places to visit. If you are restricted with time, you will need to either focus on one area . We decided to split the trip in two and spent the first 3 nights in Antalya. We wanted to spend the New Year here as we wanted to stay in a nice hotel with a restaurant. For the next part of the trip we left Antalya and drove along the coast spending a night in Kas, Fethiye, Marmaris and Bodrum. With  As I said earlier the attractions in the area are plentiful and you can decide to spend your entire trip in Antalya or any of the other places we stopped at. As I said in my previous post; Turkey has exceeded our expectations and we will surely return to explore more.
Below is an overview of the places we visited marked on a map.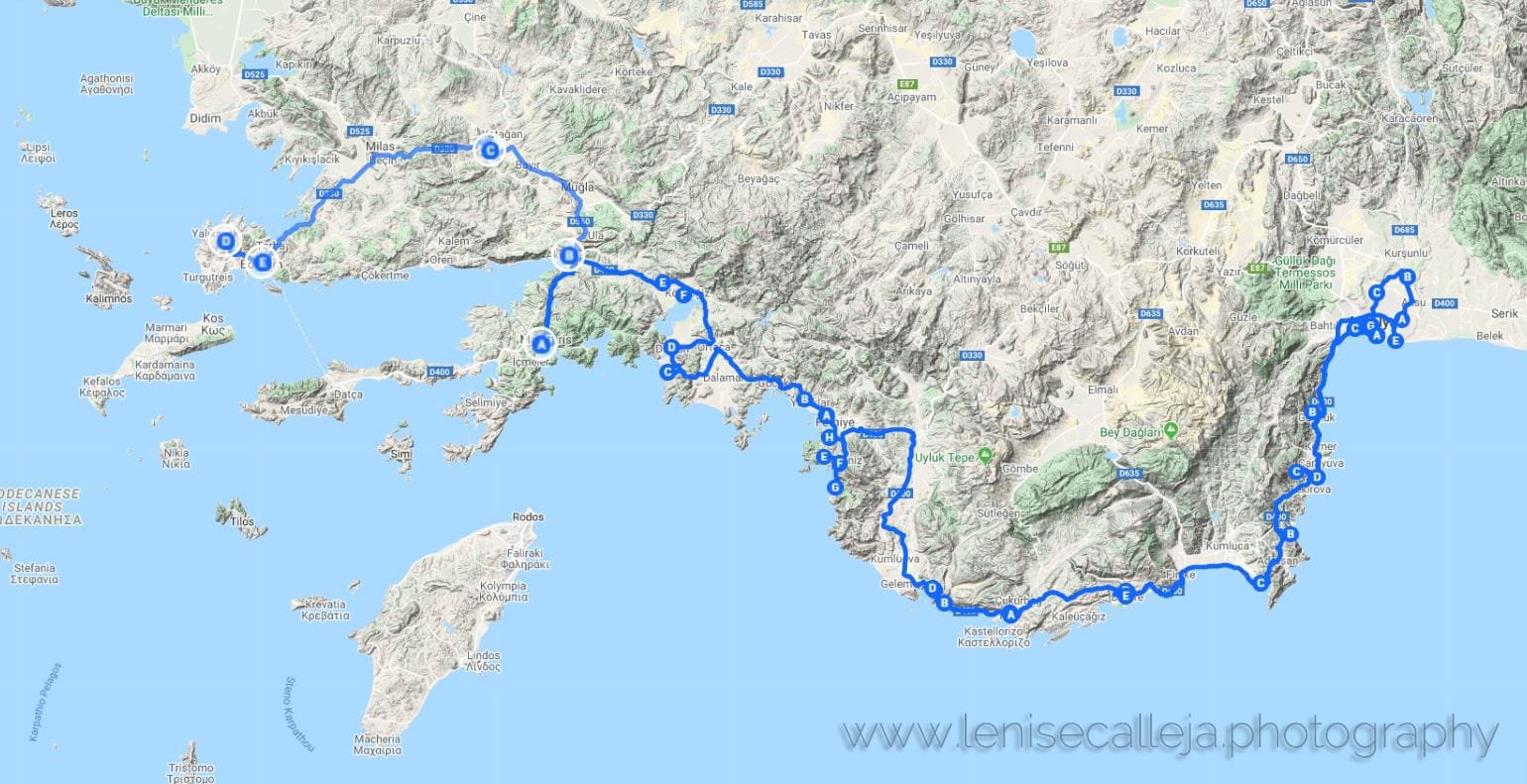 Getting there
Antalya is served by an international airport, which is around 20 minutes from the centre. There are several connections daily to Istanbul and other major cities in Turkey, but also international flights. Direct flights to Antalya are available to the main cities in Europe, the Middle East and Russia.
Where to stay
We spent the New Year here and we wanted to stay in a nice hotel which had restaurants. I felt that I have done the best deal ever by booking a 5* hotel at around Eur 90 per night. We usually never stay in 5* hotels as they are well beyond our budget. Although I was hesitant at first, I was not able to resist this deal. The hotel was extraordinary and staying there felt so good since our money really went a long way. The hotel where we stayed was Akra and I can only say positive things about this hotel and our stay. This hotel was the best we ever stayed at; with several outdoor pools and an indoor one, spa, gym, a large play area for the kids, 5 restaurants, bowling and all the facilities that you can expect at a luxurious hotel. It is located right outside the historical centre along the coast, with beautiful views over the Mediterranean Sea and the Tahtalı mountains right in front. If your budget is lower there are several options as well as the range of accommodation options is infinite; from boutique hotels in the historical centre, to economic apartments, to mid-range pensions and the most luxurious resorts if you wish to splurge!
Top things to do in Antalya
The things to do in Antalya are endless and it is considered as the tourism capital in Turkey. Natural attractions like waterfalls, canyons, mountains and beaches are abundant and the activities you can do are endless. You can do canoeing, ski in winter, skydive, go on boat rides, offroad with quad bikes or jeeps etc. History-lovers have a myriad of ruins to choose from in and around Antalya. Moreover there are other numerous shopping malls, water parks, theme parks, aquariums and animal parks etc. that will surely fill up your time in Antalya. There is something to do in every season. Although the peak season is during the summer months, we were pleasantly surprised. In the centre of Antalya we even found a New Year market with local foods and regional products; like pottery, honey, nuts etc.
We obviously did not visit all the attractions in Antalya and chose the ones that were appealing for us. Here are my top picks:
This is one of the most iconic spots in Antalya and it is located in Northern Antalya. It can be easily combined with Kurşunlu, however this park is less vast. The main attraction of the park is the waterfall, however there are several caves around and behind the waterfall home to numerous bats. If you are not afraid of bats, you can venture into these caves and walk behind the waterfall!
The same Duden waterfall ends up in the Mediterranean sea in a park which is located 20 minutes south of the centre of Antalya. We visited on a beautiful sunny day and we really enjoyed some relaxing time in the park. The waterfall is around 40m high and it is one the most remarkable natural sights we ever seen. This was the first time we've seen a waterfall that ends up in the sea. You can also opt to take a boat trip to view the waterfall from a different angle.
Phaselis is one of the numerous archaeological sites along the Turkish riviera with ruins dating back to 600BC. The ruins start along of this important port city start along the coast and are the remains of the oldest settlement in the region. Apart from the archaeological site, the beach is beautiful with a rocky area next to the parking and also a sandy beach further in.
This is one of the top 10 beaches in Turkey and boasts a 7 km pebble blue-flag beach. We visited on a rainy day so the photo is not the best, but I can assure you that this beach is beautiful. There are several facilities along the beach and if you visit in Summer you can choose to stay next to this beach.
Kaleiçi refers to the old part of Antalya. This historical centre has been restored and a walk in the quaint alleys is one of the most pleasant experiences in the area. Unlike the modern area of Antalya, Kaleiçi is very peaceful. It offers a range of boutique style accommodation if you wish to stay in the most charming area of Antalya, together with several dining and cafe options.
This list is just a taste of what you can do in Antalya. We visited the above in 3 days, one of which it was raining heavily so we opted for indoor attractions. We visited the Aquarium and also went for some shopping. I usually hate wasting time shopping, but since it was raining we ran out of other options. Turkey is a great place for shopping as several famous brands have the factories in the country, so prices are really good. Brands like Pierre Cardin, Bershka, Waikiki have factory outlets with slashed prices. Apart from some shopping you may also want to include Koprulu Canyon in your itinerary if you wish to add some Adrenalin; you can do some rafting here but also tranquil boat rides in different parts of the river. You can swim in Goynuk Caynon which is located close to Mount Olympos where you can take the cable car for stunning views of the Mediterranean sea but also try out skiing.
Special Thanks
I cannot forget to mention the blog that helped a lot while planning this trip. Make sure to check it out it if you are visiting the Turkish Riviera as well as other areas in Turkey. It is full of ideas for different types of travellers as well as beautiful photos. Thanks Slow Travel Guide.